Congress Party which had announced 6 guarantee schemes in poll bound Telangana state is taking these benefits into the public on fasttrack basis.
Congress unlike other political parties stepped ahead letting the public register for these guarantee schemes through an online portal called abhayahastham. People of Telangana can now register for the Congress Guarantee Card through this portal.
Congress party 6 guarantees
As we all know the Congress party had already announced six guarantee schemes in the state of Telangana if it comes to power on December 3.
The current schemes and declared by congress are as below
Mahalakshmi scheme
Congress Rythu Bharosa
Telangana Cheyutha
Gruha Jyothi
Indiramma indlu
Yuva Vikasam
Congress Guarantee Card Registration link Telangana
People of Telangana who are interested in these guarantee schemes can register through below link
Click here to register for Congress Guarantee Card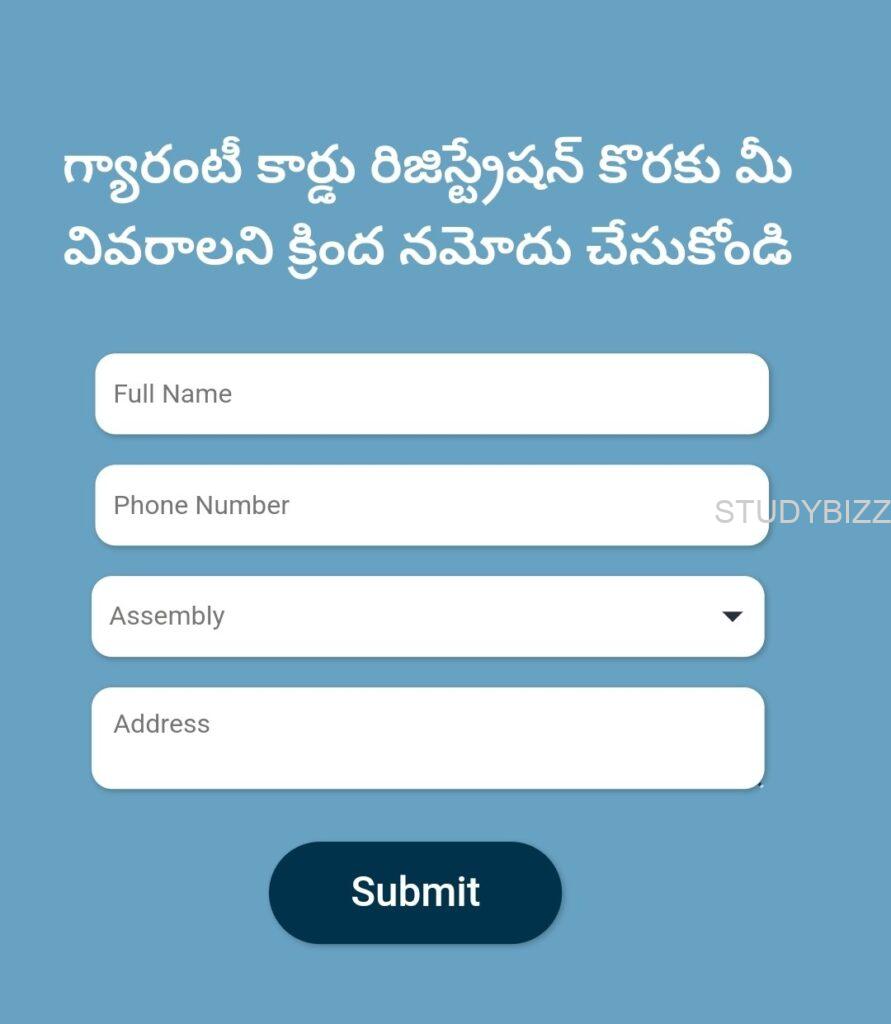 Congress Guarantee Schemes in brief
Mahalakshmi:
– Monthly financial assistance of Rs 2,500 for women.
– Gas cylinders at a subsidised cost of Rs 500.
– Free travel for women on TSRC buses

Rhythu Bharosa:
– Farmers including tenant farmers will receive Rs 15,000 annually per acre.
– Agricultural laborers will also receive Rs 12,000 per year.
– Additional bonus of Rs 500 for cultivation of paddy crop.

Gruha Jyothi:
– Under this scheme , eligible households will receive 200 units of free electricity.

Indiramma Indlu:
– House site shall be provided for free of cost and Rs 5 lakh shall also be given for the construction of homes for poor without pakka houses.
– Additionally, 250 sq yards plot shall be given for all Telangana movement fighters.

Yuva Vikasam:
– Students will receive Vidya Bharosa Cards worth Rs 5 lakh to meet the requirements of graduates.
– Telangana International Schools will be established in every mandal.

Cheyutha:
– Existing Monthly pension shall be enhanced to Rs 4,000 for elderly, PWD, single woman, widow woman and all other weaker sections being covered.
– Rs 10 lakh insurance coverage to be provided under the Rajiv Arogyasri scheme.